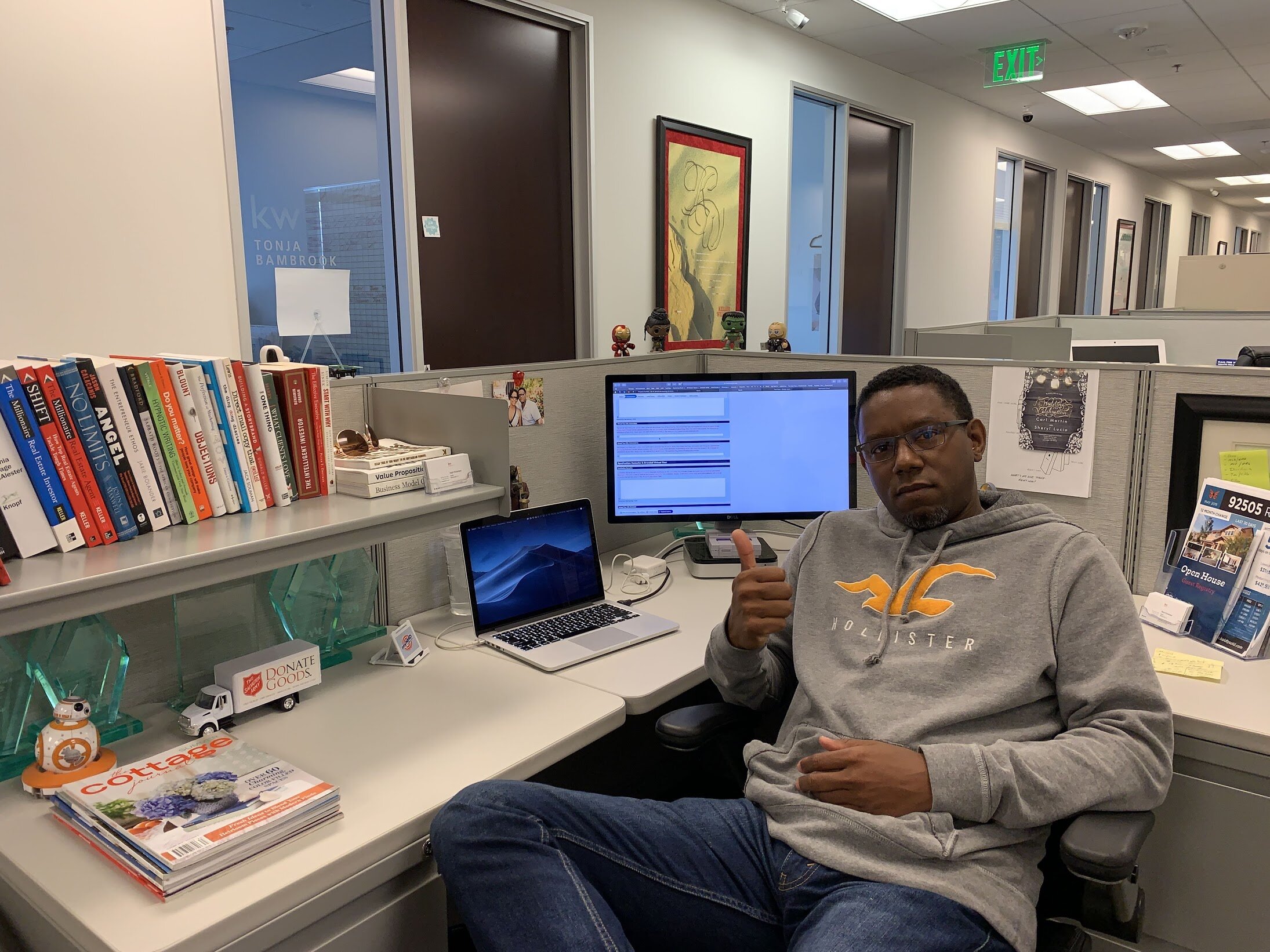 Hello, I'm Ralph.
Originally from the pink sand island of Bermuda, I now hangout in the City of Arts & Innovation - Riverside, CA. It's pretty cool here!
I'm into tech, startups, gardening, and art. If you called me a nerd, I'd take it as a compliment. :-)
My all-time favorite thing to do is spend time in the outdoors with my lovely wife Tiffany, my two talented daughters and our hilarious friends! I'll take Apple over Android, tea over coffee, and the Lakers over the Clippers… any day of the week.
My main gig - Realtor & Listing Specialist. Recently I launched the Boldly Sold 4-Step Plan - which helps investors and homeowners maximize their return on investment when selling a property. And so far, we're making it rain!
I have a burden to help kids prepare for the 4th Industrial Revolution and the jobs of the future. So in my free time, I volunteer as the Chief Curriculum Builder for C3 Expo - a non-profit organization that's on a mission to teach 1 million minority kids how to code. Working with C3 in insanely fun and rewarding.
Launching a new product or startup? I don't know everything, but I've launched many digital products and a few tech startups and enjoy sharing what I've learned. DM me for a little Lean Startup Coaching.
Hit me up on social media and let's connect and collab!
C3 Expo
Serving as the Chief Curriculum Designer for the C3 Expo has been one of my most rewarding experiences.
Founded by Kevin Carrington, C3 (Carrington Coding Camps) was created to expose minority youth to the possibilities of careers in S.T.E.M. related fields. In partnership with some of the world's most innovative tech companies, C3 Expo designs fun and exciting tech projects that give minority youth hands on experience with technology that inspires them to learn more.
For a glimpse of the February 2018 C3 Expo, watch the video below.
GEMConnect App
GEMConnect is a mobile app that helps minority students gain the knowledge, preparation and skills needed for meaningful employment after graduation.
I'm currently consulting for Oakwood University and the TOT Cluster on user experience, customer development, and iterative feature deployment strategy.

Funded by the UNCF's Career Pathways Initiative (CPI) grant, GEMConnect provides students with a career pathway checklist leading up to graduation. Students can login to GEMConnect using their mobile device to learn about and complete a variety of career objectives such as, skills and career assessments, professional certifications, career advising, mentoring, and job placement assistance.
The app is being developed and maintained by Bitpeel, a Riverside based web consultancy.
MAVEN
As former Creative Director & Principal Consultant for MAVEN, a Riverside based digital creative agency, I spent 16+ years leading teams in the design, development, branding and launch of digital platforms for government, corporate, nonprofit, international and tech startup clients in a broad range of industries.
Maven's talented team was received a number of AAF-Inland Empire awards for our work including:
RIVERSIDE I/O
I'm very proud to have co-founded Riverside IO where I served as a Director, and later as President & Chairman of the Board until 2016.
Riverside IO, a non-profit creative space in downtown Riverside that serves as a hub of tech events, lectures, hackathons, tinkering, brainstorming, coworking and more in an effort to organize and strengthen the tech community that exists in the inland region of Southern California.
Heckler Sports
I've experienced the thrill and heartbreak of being part of a tech startup. In 2011 the founders of Heckler sports invited me to join the team as CTO and Head of Product Development. We teamed up with Cloudspace and Mobelux to build an amazing sports social media platform.
Backed by former Heisman Trophy winner Tim Brown and former NFL Pro-Bowler Everson Walls, Heckler Sports was the platform to share and talk about everything sports. The LIVE feature gave fans the ability to live chat, banter and break down plays during live sporting events from their computer or mobile device.
In the end, Heckler Sports was unable to raise the necessary capital to continue operations. However, I learned many important lessons about real world implementation of lean startup methodologies and customer development and had the opportunity to working with some amazingly talented people.
I'm always open to sharing my lessons learned with early stage startups.